Tripawds is a user-supported community. Thank you for your support!
So, it has been awhile since our last pupdate- but Mylo has been keeping us very busy!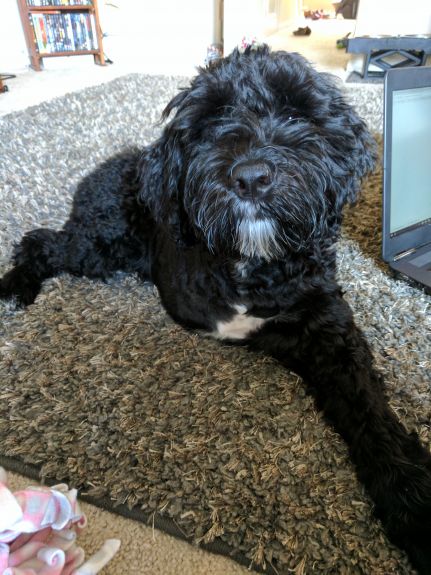 His incision is completely healed, and his fur is growing back in super fast. We gave him his first bath since his surgery this past weekend and he was perfect. His stamina on walks and during playtime is increasing by the day- it truly is wonderful to see him being a puppy.
Mylo has also been growing like a weed! He is now up to our knees and weighs over 30 pounds (he is 4 months old).  To make sure that he stays nice and limber during his growth spurts and to account for the extra pressure being put on his front leg we are giving him doggy treats that support healthy joints. We are also keeping an eye on his front paw pads to make sure that his level of activity isn't causing any extra wear and tear. We bought Musher's Secret to apply at the first sign of any cracks.
Once his scab fell off his incision  we decided to start taking him to the dog park. The first couple times he went he was VERY unsure of what to make of all the others pups. We stay in the little dog side because he is only used to Gus and Bane (toy poodles) at home and the bigger dogs seem to make him nervous. He wasn't social with the other dogs at first- but as we continue to go he is really starting to open up.  We think he is aware that he is a little 'different' as he doesn't engage in rough housing with the other pups- but seems like he wants to. Once when he was playing chase he fell down and struggled to get up as quick as the other dog, which seemed to make him scared. Since then we have made sure to keep a close watch on those situations, we want him to become more social but we want to make sure that he takes it at his own pace!
Thanks for keeping up to date with our pup!